Steve Jobs, perhaps the greatest entrepreneur of his generation; it was perhaps his passion that was most responsible for his success. Here are 5 quotes that best demonstrate this passion
Your time is limited, so don't waste it living someone else's life.

Steve Jobs

I think it is safe to say that Steve Jobs is a man who achieved as much as another man could achieve in ten lifetimes. He saw HIS goal. He had HIS vision.He realized them all, and stayed true to himself, in spite of the challenges that he faced. He disregarded the doubters and held strong when everything around him seemed to be crumbling.He could have gone and worked for someone else when times got hard, could have given up on his dreams, abandoned his core values, but he didn't, he kept on fighting until he changed the world and obtained success….because he knew that that was the life he was supposed to live. Perfectionism driving on through…insisting it COULD be done…For that is the man he wanted to be and indeed the man he was.
If you are working on something exciting that you have a passion for, you don't have to be pushed. The vision pulls you.

Steve Jobs

Any entrepreneur will tell you that vision is everything. You need to be excited about what you are doing, or frankly you shouldn't be bothering. Whether it is the vision of the reward or whether completion of the work is it's own reward, it must light you up or you are nothing but a slave.
Being the richest man in the cemetery doesn't matter to me. Going to bed at night saying we've done something wonderful, that's what matters to me.

Steve Jobs

If you chase money you will be miserable, if you chase success you will be rich in every respect. Money didn't worry Steve Jobs because he was thinking about the next goal at all times.
Remembering that you are going to die is the best way I know to avoid the trap of thinking you have something to lose.

Steve Jobs

We have nothing to lose in life. Every situation is temporary and change is just the inevitable shifting of the sands of time…….personally I would like to build my own sand castle!!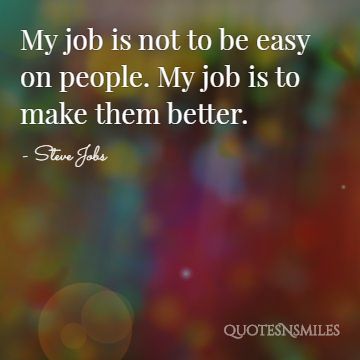 My Job is not to be easy on people.My job is to make them better.

Steve Jobs

We are soft on ourselves daily, only to continue our suffering in a life of mediocrity and toil for someone else! Steve Jobs wanted people to be the best that they can be , because only then can you be truly satisfied in your life and with your lot.
Shape your own future. Blog your way to a better life, the life you actually want….don't live someone else's life- live your own…you owe it yourself to give it a shot for the short time we are on this planet.Check out the viral blogging system and break free…My job is not be easy on you…my job is to make you better!
                                                                                          DO NOT CLICK BELOW UNLESS YOU ARE EXTRAORDINARY>